Hurricane Wilma video and photography blog from Marco Island and Naples, FL.
Hurricane Wilma video diary and photo blog from Marco Island and Naples Florida.
I have updated my Hurricane Wilma blog page to cover everything in regards to my Hurricane Wilma intercept.
 
---
Once again I in Florida to document a hurricane just when I thought the season was over and now Hurricane Wilma shocked everyone.
On October 16th, 2005, Tropical Depression Twenty Four formed south of Cuba and turned into a weak hurricane the next day.  The next morning on the 17th, it looked as if Wilma was on track to head towards Central America.  The forecast track was still early for this storm and with it being so late in the season, I did not hold out too much hope for it making a landfall in America.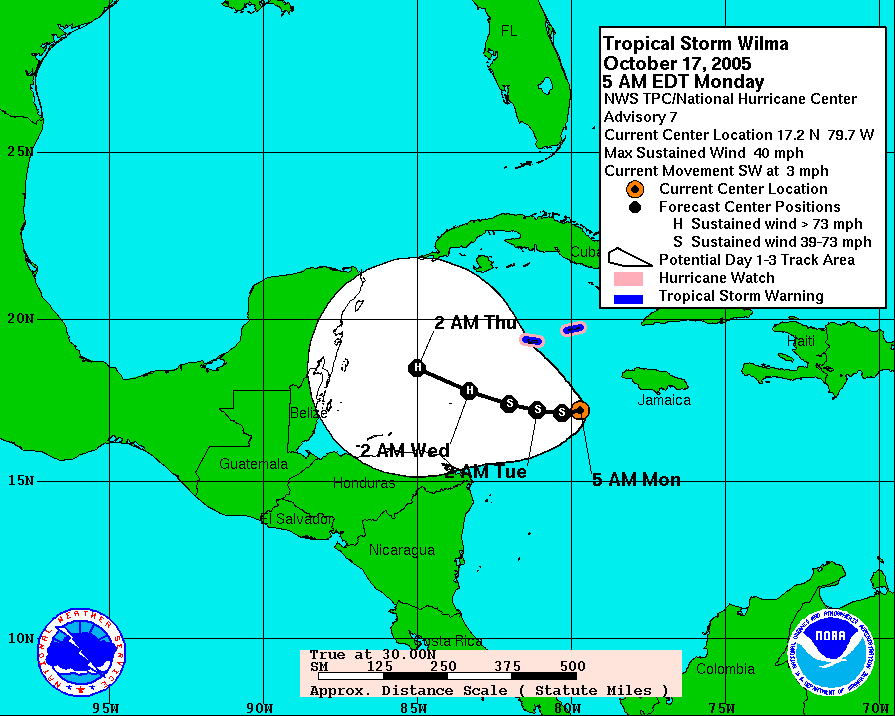 When I went to bed on Tuesday October 18th, I was starting to get my hopes up for one more hurricane intercept for my historic 2005 hurricane season.  Wilma was now up to 110 MPH and the forecast track was for it to move between Mexico and Cuba.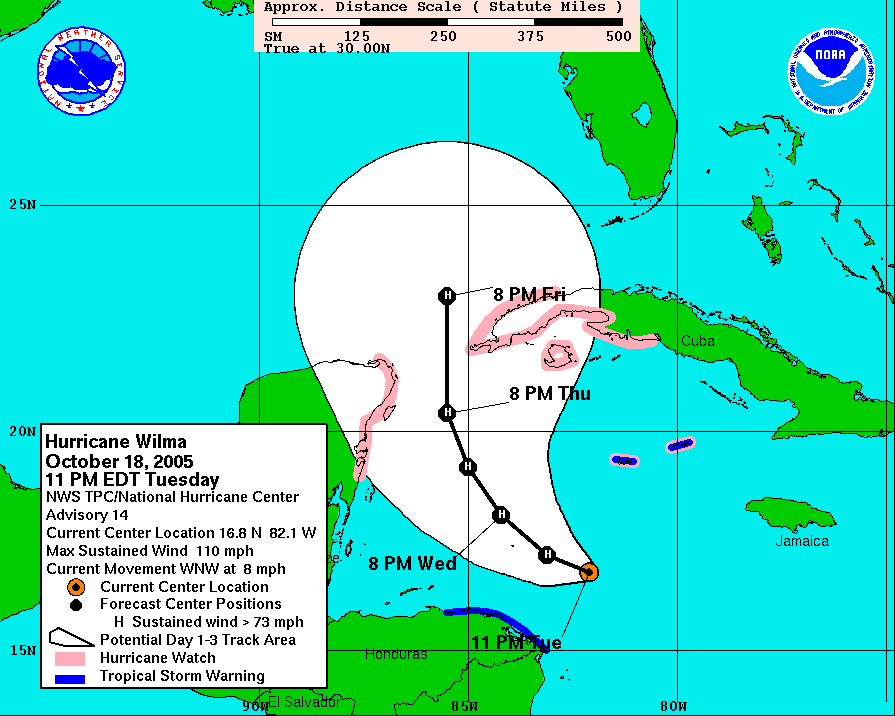 The next morning, everything about the 2005 hurricane season just changed.  Hurricane Wilma just blew everyone away and broke some records with how fast it grew in intensity during the overnight hours.  Wilma went from a Cat 1 the day before, grew into a Cat 2 and jumped to a Category Five hurricane during the overnight hours with winds of 175 miles per hour, and the forecast track had it heading for the Gulf Coast.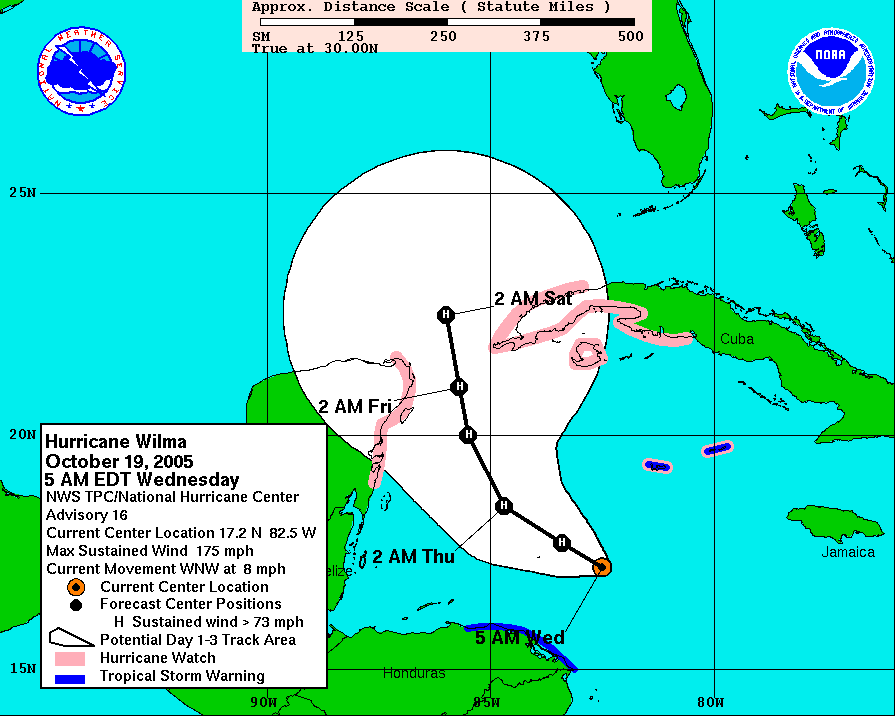 On the morning of October 19th, Wilma's wind speed had dropped back down to 155 mph but it was still a monster Cat Five Hurricane.  The forecast track showed it was heading towards Cancun Mexico. 
Now I really wanted to head to Cancun Mexico to intercept Hurricane Wilma and I could have got on a flight but due to the dangers of the storm and being outside of the US and the fact that the only Spanish I know is what you say at Taco Bell to order food, I decided to play it safe and wait until it hit Florida.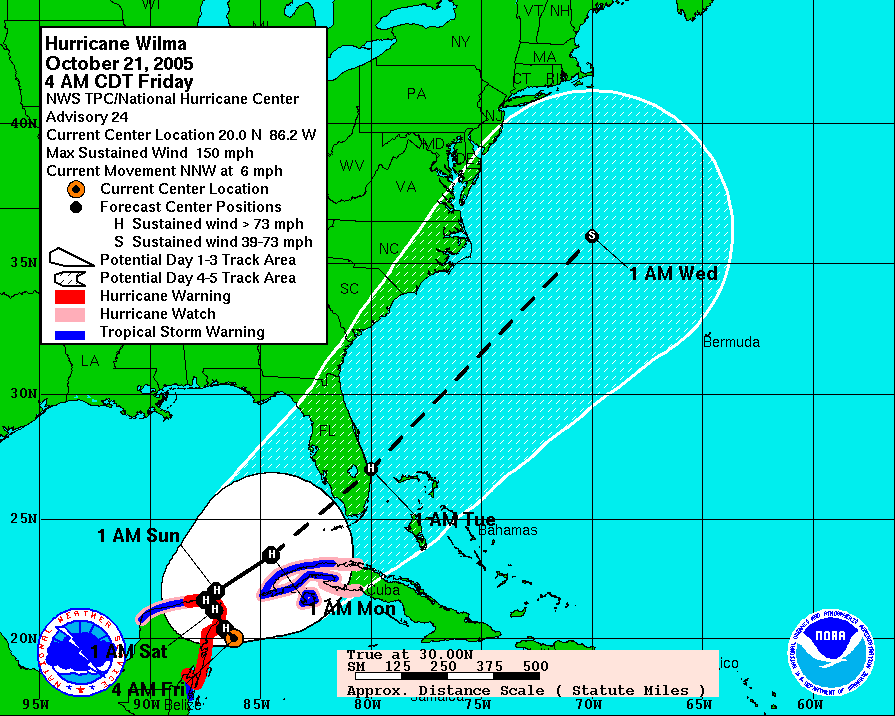 I flew into Florida on Friday October 21st to make sure I was in place and able to move locations if needed. I also needed to take care of some business and met up with Chris to  wrap up some stuff on the prior years hurricane stuff to make sure the last of the merchandise was not destroyed by Wilma.  
My target starting point was Fort Myers with a target ground zero of Marco Island to Naples Florida. I was very confident of my target area and stayed in Punta Gorda Florida for this hurricane.
If you read my Hurricane Charley blog, you will know that Punta Gorda was where I was for last year Charley.  It was great to be back in town and meet up with all the friends I made there at the Pub.  I will say that they were worried to see me with a hurricane forecasted to be coming because they thought maybe they would get hit again by Wilma. I told them I was staying in Punta Gorda because I like to stay outside of where the eye will make landfall so I have a place to go back to after the storm.
This chase was going to be different because I was going to chase with a new friend Brian who shoots a lot of underwater video, his web page is www.subsurfacemedia.com.
Brian contacted me a while back and he wanted to come with me to intercept the eye of Wilma and get a feel for how to work in the fast paced electronic news gathering environment.
On Saturday, I drove up Sarasota, FL to meet Brian at his home and plan our Hurricane Wilma intercept.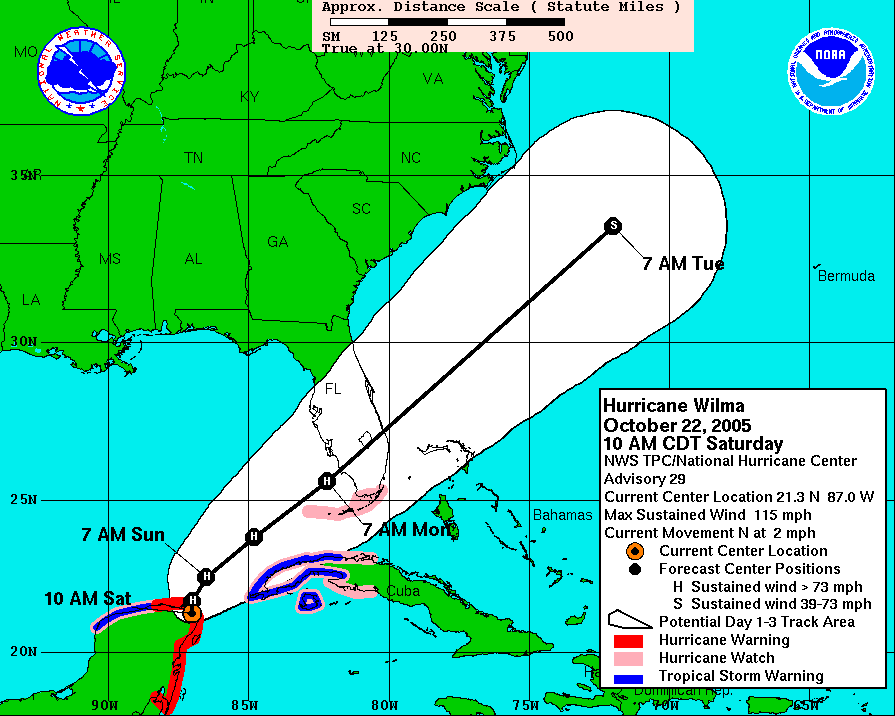 We had all day Saturday to plan the chase which did not take too much planning because my Marco Island target was about as good as it was get unless we drove to Key West.  I wanted to get in the eye and all the forecasts showed that Marco Island was the place to be.  Since we had the rest of the day to kill, we went to go check out the beach to get some footage of people surfing the waves that were kicked up by Hurricane Wilma as it sat over Mexico. 
 

With time to kill, we suited up in the wet suits and tested out the equipment in the waves.  The first video is a video that Brian took that shows me and the big waves moving in from the Gulf of Mexico to test the waterproof gear.

After a short break to dry off, we went back to Siesta Key, FL to film the Surfers catching some rare big waves in the Gulf of Mexico as a result of Hurricane Wilma and the large wind profile as the storm stalled out over Mexico.
Hurricane Wilma Video 10/22/2005 Siesta Key Florida. Part 1.

 

 

Hurricane Wilma had pretty much stalled out over the Yucatan Peninsula for the last 36 hours and the maximum wind speeds dropped down from 145 mph at 10:00 a.m. on Friday morning to 100 mph at 10:00 p.m. on Saturday night and was forecast to make landfall in Florida within the next 36 hours. 

From the looks of the people checking out the waves Saturday night in Siesta Key, Florida, it didn't look like people were too concerned about the storm.

Hurricane Wilma Video 10/22/2005 - Siesta Key Florida. Part 2.

 

As we wrapped up shooting footage of people surfing along the beach in Siesta Key, FL, I thought to myself that this was the last sunset that I was going to see for a couple of days and hoped it would not be my last ever.  Wilma was still a Category Two hurricane and was still very dangerous so I had to tell myself not to get careless or over confident even though this was my ninth hurricane intercept in just 14 months.

The end of this video was from Port Charlotte, FL where I saw a sign on a bank that had a cartoon of Wilma form the Flintstones and the words saying Spare Us Wilma.
The forecast showed a trough building that would accelerate Hurricane Wilma to the Northeast over the next couple of days and then some much cooler temps after the storm.  If the forecast verified, we would be in perfect position in the area to Naples and Marco Island, Florida. 
Since this was Brians first eye wall hurricane intercept and he was not driving a SUV, the plan was for us to chase the storm in the two locations for pre surge and post surge.  We would start in Naples and then move to Marco Island before the eye hit and then reposition back to Naples in the eye to avoid the storm surge and flooding that could trap us there for a days .
---
It was now Sunday afternoon; I had slept for most of the morning and knew that I was going to need to get as much sleep as I could before I met up with Brian at my hotel in Punta Gorda, FL.  I did go to the Celtic Ray Pub to get one last hot meal of Fish and Chips for lunch.  The owner of the Ray said they were not closing down for Wilma so when Brian met up with me at the hotel and said he wanted to get something to eat, I sent him over their and took another nap for an hour before it was time to get going.