Hurricane Charley Blog
Hurricane Charley Video And Photo Blog
Hurricane Charley slammed into Punta Gorda Florida on Friday The 13th, August 2004. Hurricane Charley was one of the most powerful hurricane's to hit the United States in the last 50 years and the worst hurricane to hit the state since Hurricane Andrew made landfall in 1992.
This page is a documentation of my chase of Hurricane Charley and includes a lot of my Hurricane Charley Video Footage and Still Photography before and after the storm.
I have posted a "Per Project" Hurricane Charley stock video in the new "Per Project" stock video section.
All of the Hurricane Charley video is now located in the Hurricane Charley stock video section on BNVN.com.
08/12/2004 - Morning: Departed Minneapolis, MN and just landed in Orlando Florida. Picked up my rental SUV and in route to Tampa for the night. The flight was pretty mellow except for the severe lack of leg room. The flight crew did say on the way down to Orlando that they were going to be taking a different route... Wonder Why?
| | |
| --- | --- |
| | Here Is A Photo From 37,000 feet of a cool looking weather boundary from the flight this morning |
---
08/12/2004 - PM Update - In Tampa Bay Florida, Major Evacuation Going On Here. Cell Phone's Are Having A Tough Time Getting Through, Supplies In Stores Are Low, And A Major Storm Is Coming This Way.
Here Is Something I Saw And Thougth It Was Kind Of Funny. This Little Guy Has No Idea What's Coming.
---
To purchase the Hurricane Charley photographs, visit my Hurricane Charley Photo Gallery Page by clicking here.

I have posted the old photo gallery below but those are only for editorial viewing.
On Friday the 13th, August 2004, I was based in Tampa, Florida for Hurricane Charley as the forecast for the hurricane was to hit the Tampa and Saint Petersburg, Florda area. I did shoot an early morning video in Saint Pete for TWC before I got word that the forecast track had changed to make landfall about 100 miles to the south.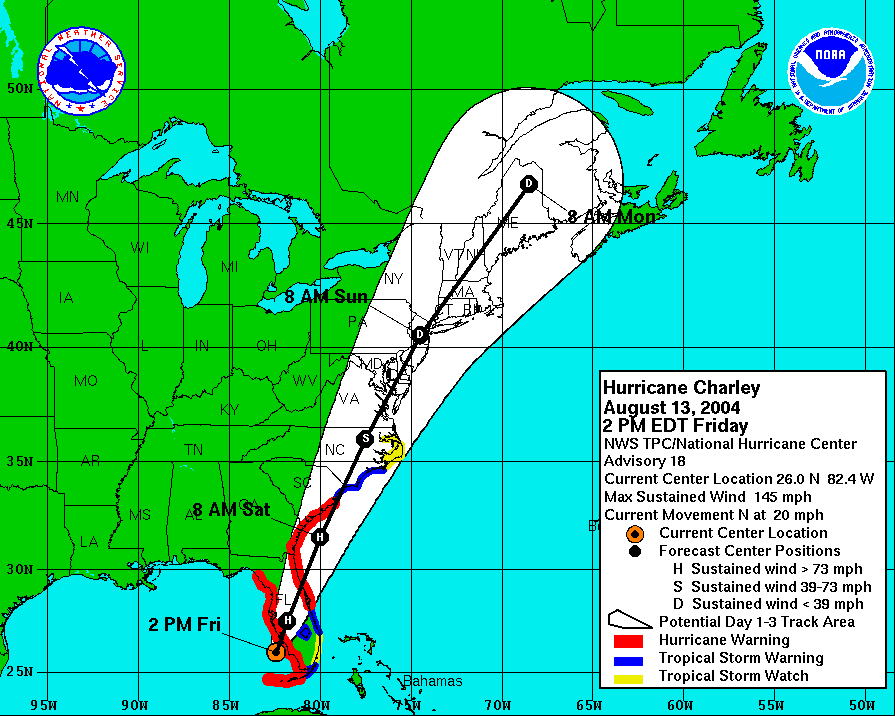 After leaving the Tampa and St. Petersburg Florida area on the morning of Friday the 13th. I headed down towards Punta Gorda, Florida.
Once I made it to Punta Gorda, FL I met up with the BNVN crew to document the hurricane making landfall. We were able to document some insane winds as the city was pretty much laid to waste before us.
Here is a short video about what I saw during the hurricane.
The winds at the medical center which was just up the road from us had a gust measured as unoffical by the National Hurricane Center at 150 knots which is 172.6 miles per hour. The sustained winds were 140 to 150 miles per hour at our location with higher gusts.
Special thanks go out to Evan Bookbinder, Andy Revering, and Blake Naftel for nowcasting and making sure I was still alive after the storm.
08/13/2004 Hurricane Charley photography log. This is a collection of Hurricane Charley Stock Photography That I Was Able To Take While On The Chase.
| | |
| --- | --- |
| | Starting the day in St. Petersburg Florida, I was covering the last minute boarding up and evacuations. |
| | Residents had some fun painting their houses... |
| | Another Image From St. Petersburg, Florida |
| | Another Image From St. Petersburg, Florida |
| | St. Petersburg Fire Department Ready For Action. |
| | After I took this photograph, I got bac on line and talked to Andy Revering and Evan Bookbinder who said I needed to get to the south FAST because it was going to turn inland near Punta Gorda. |
| | On The Road To Punta Gorda Florida, The Outer Bands Of Hurricane Charley |
| | On The Road To Punta Gorda Florida, The Outer Bands Of Hurricane Charley |
| | On my way down Interstate 75 I passed a H2 that was heading into the storm. This was about the time I got the call from Andy Revering telling me that Hurricane Charley jumped from a Cat 2, to a Cat 4 hurricane. I thought he was kidding but Blake Naftel called me and Evan Bookbinder sent me an instant message as well to confirm it. |
| | Convective bands of the storm were already doing damage in Port Charlotte. |
| | I was expecting a tornado to drop out of this thing but it was moving so fast at 50 mph that even if there was a tornado, it would have been gone in the blink of an eye. |
| | After the storm, some of the first images of Punta Gorda Florida after being destoryed by Charley. |
| | These images are of the Medical Office Building next to the hospital. |
| | A resident that rode out Hurricane Charley comes out of his house in shock. |
| | DHL may deliver right after a Cat 4, but I won't use them... |
| | Charlotte Regional Medical Center. This was where a wind speed of 150 Knots or 172 MPH was recorded. The Punta Gorda Airport had a wind gust of 160 MPH before the equipment broke. |
| | Charlotte Regional Medical Center. |
| | One of the many Marina's in town that was destroyed. |
| | Various damage, a stop sign blown into the road. |
| | Outside the Celtic Ray Pub in Punta Gorda. |
| | Outside the Celtic Ray Pub in Punta Gorda |
| | EMS coming back on line to help the people out and try to restore order. |
| | Clean up crews racing into town to help out. |
| | Max Doyle, son of the owner of the Celtic Ray Pub shows us the damage to his Apartment above the Pub where they lost their roof. |
| | A view from on top of the pub of the damage. |
| | A huge chunk of a roof ready to fall off |
| | Cars that took shelter in this bank drive through were trashed |
| | A 2 x 4 is shoved through the wind of this car. |
| | A look back to were we were at the Justice Center. |
| | A destroyed building in town. |
| | Everywhere I looked in Punta Gorda, FL destroyed buildings filled the town. |
| | A destroyed building in town. |
| | Notice The Gas Can In This Destroyed Building? Jim Edds And I Where Photographing This Scene When This SUV Pulls Up And The Guy Jumps Out And Says He Needs Gas. |
| | Looter!!! Here is the guy that pulled up and stoled the gas in the gas can. |
| | All the trees are destroyed. There just cut off like a big lawn mower came by and chopped up the town. |
| | The debris was everywhere as all the buildings in town were damaged or destroyed. |
| | This mini van was flipped over across the harbor in Port Charlotte. |
| | Roofing Nails Were Flying Through The Air. Deadly Debris In The Trees. |
| | More Debris Wedged Into A Palm Tree |
| | Another view of the debris. |
| | Another view of the van as the sun was setting. |