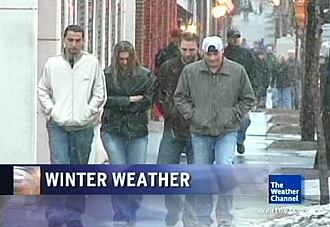 1/29/2006 Today I was out shooting more video for The Weather Channel of the snow in the Twin Cities. Snow is rare now with the record temps that we have been having.
Snow video in St. Paul, MN for the Winter Carnival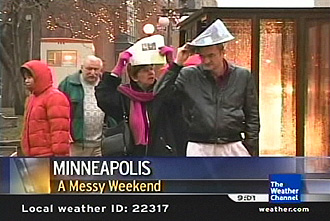 1/28/2006 Out playing Weather Channel photographer again today with this strange weather. It is the middle of winter but it was not snow but rain falling in the Twin Cities. The St. Paul Winter Carnival is really felling the hurt with the ice sculptures melting and lakes thawing out.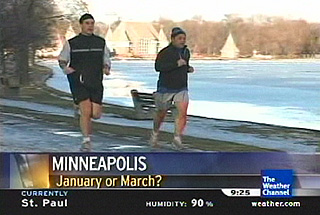 1/27/2006 I get back from Florida and did not notice that much of a difference in the weather…
I was out around the lakes in Minneapolis for The Weather Channel to video tape the warm weather. Shorts in the middle of winter, yes, it's that warm outside.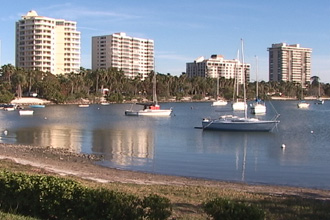 1/26/2006 Today I finished up my Scuba training and just need to take the open water tests. I am loving this new hobby. It has opened up a whole new world of possibilities for fun and for photo and video work. After I got out of class, I met up with my buddy Brian who also shoots for BNVN in the Tampa / St. Pete / Sarasota market for us for The Weather Channel. We hung out for the day and kicked around some video ideas for different locations and shot some footage for TWC.
After leaving Brian's place I decided to head south to Punta Gorda to stop in to the Celtic Ray Pub to see how they were doing.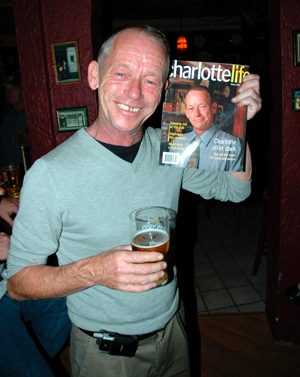 The Celtic Ray is the Pub that we helped out with selling the Hurricane Charley DVD so that they could get back on their feet. Well, I'm happy to say that they are doing great and their already starting the rebuilding of the building that was destroyed in Charley.
Below is a photo of the owner, Kevin, showing me the Magazine cover that he was on that talks about how he made a come back after the storm. While hanging out at the pub and talking to some friends from Punta Gorda, it was great to know that with all the B. S. that I had to put up with from the egos of a few people that were involved with that project, it was all worth it to see people having a good time and relaxing.
Everyone told me that night, if it was not for the Hurricane Charley Video, the pub would not be their today. And as the cook, Matt said to me, don't worry about the other guys that got rock star egos, you nailed Katrina in New Orleans and your on a successful solo career now.
1/24/2006 After my scuba class today I was out shooting video for The Weather Channel of the dense fog. The fog got really bad after the cold front moved through the area. One person died after being hit while crossing the road in the fog and the driver did not see them in time.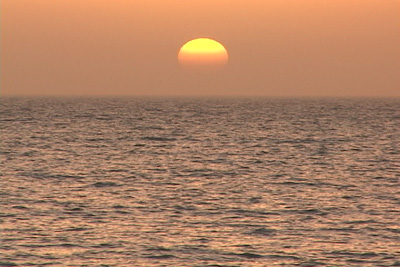 1/23/2006 Today I was out shooting some video for The Weather Channel in the St. Pete Beach area. I was out before my scuba class on the beach to get people getting in their morning walks and runs. Then after class, I went back to my hotel and noticed a perfect sunset. So I shot some more footage for The Weather Channel evening show.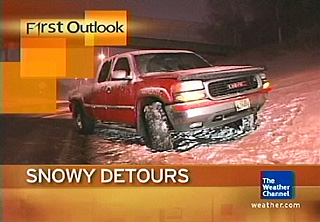 1/17/2006 Out shooting video of the snow and poor roads for The Weather Channel for the morning shows.
1/16/2006 Out shooting for The Weather Channel morning show.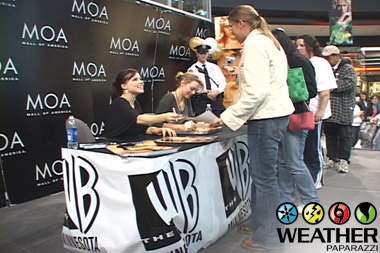 1/14/2006 Today I was out doing some Paparazzi work at the Mall Of America. Real Paparazzi work with Sophia Bush (Brooke Davis) and Hilarie Burton (Peyton Sawyer) of the WB TV Show, One Tree Hill. I was able to get some great B-Roll footage with them signing autographs for all their fans. They both seemed pretty down to earth and amazed with how many people showed up to see them. Hilarie also explained the bandage on her right hand. She said "It was a bar fight but then Sophia joked and said no, my dog bit her." Hilarie then said, "I cut my hand in the kitchen while washing dishes the other day but a bar fight or dog bite sounded better."
1/14/2006 PM – The Weather Paparazzi Blog Pages are finally up and running. Everything is back on line but some links may not be working still

1/13/2006 Today as you can tell, I'm working on the new blog page. This is a lot of work to clean up the mess I had with my blog. A lot of mess, but when its done, it will look a lot more professional.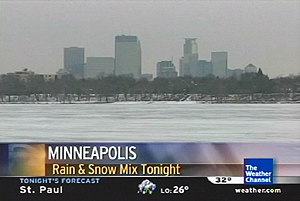 1/12/2006 Out playing Weather Channel Photographer again today. Today it was in the 40s and was almost spring like to where I was thinking about gearing up for some storm chasing.
1/11/2006 Almost done with the video catalog for the new site. Month's of worth of work, no, over a years worth of work is just about done. I can't believe it is almost done and then I can move on and focus on just updating the new Weather Paparazzi site with new content, and of course, having fun shooting the new content. How Much Content Have I Reviewed? Well, Let Us Add Up The Hard Drive's. Twenty Seven Drives! 1- 40 Gig, 7 – 80 Gig, 3 – 160 Gig, 3 – 200 Gig, 10 – 250 Gig, & 3 – 300 Gig Drives. Total 27 @ 5.04TB. That's over Five Terabytes of video that I have reviewed for the new site so I could pick out the coolest footage from my 8 years of video since I started freelancing for The Weather Channel. Now that I think back at all the work I have done on this project, damn, it was a lot more then I could ever conceive but it was well worth it. Once this is finished, I will have so much free time on my hands I won't know what to do until storm chasing season starts in a few months.
1/8/2006 Wow, almost 2 weeks straight on keeping a normal schedule. Its so strange to wake up in the morning and start working in my home office by 8am then stop at 4pm and then leave it to relax. I'm shocked at how much work I was able to do by keeping a normal schedule. All of the video is digitized and I'm well on my way to completing the video catalog and indexing. I took a break from the video work this afternoon to go out and play weather channel photographer again since it was snowing out. First time we have had snow in the city in a while.
1/6/2006 Today I completed the very last tape review at 10:20 this morning. Everything is in the computer now and I just have to review all the digital video files. The plan is to release weather paparazzi in a week and then slowly ramp down the lightningboy.com site as I transition it all to the new site. All of the hurricane video, and more of the Hurricane Katrina video as well as the rest of the canes from this year will be on line for viewing. Yes, there will be ad's but hey, I'm a paparazzi, A Weather Paparazzi, I sell this stuff to make a living 🙂

1/4/2006 Another busy but productive day. My new years resolution was to get back into living a normal life with normal sleep. So far so good. I have not felt this great in years and on day five of getting at least 8 hours of sleep a day and working during the day like normal people, its strange but I'm also getting a lot of work completed. I have a huge chunk of video now edited and cataloged and I'm down to the last 450 Gigs of video to review. One hour is about 15 gigs so its a few more days worth of work until the catalog is complete. Today I also got my new video editing software and no sooner then I loaded it on the laptop, the assignment desk called and wanted me to go out and shoot some cold weather footage. I'm just finishing up the video for them right now and then back home to play with the new software.
1/3/2006 Out covering some Dense Fog in southern Minnesota.  With the airport being closed due to fog, I was able to go out to the end of the runway and get some foggy video.
1/1/2006 HAPPY NEW YEAR!!! Today is an historic day to say the least. BNVN is going into its 6th year and as of 10:40 AM central time this morning, I finished the tape archive digitization project. I have reviewed over 500 hours of my own footage and digitized the best stuff for the new web site, Weather Paparazzi that is set to launch in a couple weeks. Now its all digitized, but I still have to review the footage and catalog it all for stock and on line streaming, but that is the easy part.