5/29/2006 Was out on a local chase today and got in a hail storm in Goodhue County, MN.
5/29/2006 This morning I was out shooting video for TWC's morning show.

5/28/2006 Still working on the site and still Scuba Diving. Actually I have been getting in a lot of dives. I have more dives in the month of May then I have storm chases. This years chase season has really sucked but it is ok because I have a lot of other projects and the diving. It was pretty fun today and I got 2 dives in at Calhoun. The last dive I made it down to 44 Feet and the water temp was 46F. That was freaking cold considering that the air temp was 96F with record high temps in the Twin Cities today. Ahhhh, no storms to chase, oh well. There are lakes to dive!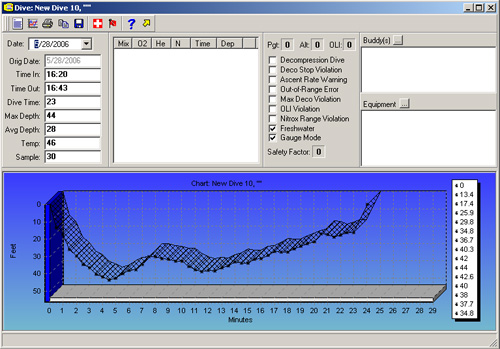 5/26/2006 Out playing Weather Channel photographer today. It's hot in Minneapolis so it was time to hit the beach around Harriet. Working a lot on the web site updates. Lots of behind the scenes stuff on the HTML side of thing and making the ASP pages for the site.
5/25/2006 Got some sweet lightning last night at the Air Lake airport in Lakeville, MN as several Helicopters were waiting out the storm.  I was able to get some lightning flashes with the choppers on the ground and as they took off right over me.
5/17/2006 I was out shooting video for TWC today.

5/14/2006 Back to working and getting stuff caught up and dropping bad habits. I guess it is fitting that today is a turning point in my life with leaving another bad habit as this is the anniversary of when I quit smoking. What is the other bad habit? Something else that has been stressing me out for the last few months… The good news, while waiting around in limbo, I have once again focused my energy on the web project. This week I will be finishing up site. I should have a good chunk of it done in the next coming days. Why have I not showed it off yet? Its huge and I want to release it all at the same time since I have a ton of other chasers copying everything I do. How can I say that? Simple, when my agents at Conus get phone calls from my competition asking how they can get on board with them, people are copying me, trying to duplicate what I do, how I do business and even the style of shots. So I have to keep the competition guessing but when the new site is released, it is going to make everyone say WTF, it's huge!
5/12/2006 Out shooting rain video for The Weather Channel again today.
5/11/2006 Did some time lapse video yesterday.
5/10/2006 Out shooting video for The Weather Channel today.
5/9/2006 Today we are suppose to get some more storms but I'm going to be working on code for the new site and taking care of a lot of stuff that is sitting on my desk to get done.
5/8/2006 Ok, spent the day editing and updating stuff while watching the weather. There were some pop up severe thunderstorms around Minneapolis but it was too hard to chase in and see anything worth shooting so I took a break and shot some stock footage. I did get all of the New Orleans aftermath photographs on line. All of the photographs are on the Hurricane Katrina Blog page. Click on the Nine Months Later link on that site.
5/7/2006 Back in Minneapolis.
5/6/2006 I went back out to the 9th Ward of New Orleans and Arabia area to document the devastation. I'm sorry but the east side of New Orleans is done. Nothing has changed since the storm. I will put the photos up when I get back to Minneapolis.
5/5/2006 Oh my god, the 9th Ward is gone. It is trashed. Gone. Houses in the road, houses on top of cars, houses on top of houses. It is all but dead with a few squatters living in some of the houses but it is dead. Here are some of the photos I took today. The photographs and new video are only one tenth of one percent of what is here to photograph of the aftermath. Damage is everywhere still and debris is just laying in the street. Some people have take the duty of stepping up to the plate and fixing stuff but a lot of it looks just as it did a month after Katrina I did go back to reshoot the Hellp Photo and shoot a lot of additional footage. All of the photos are now on my Hurricane Katrina Blog page. Go there to see all the aftermath photographs.
5/4/2006 Yeah I know, it has been a while since I updated the blog but only because I have been busy. I'm in New Orleans, LA to do a bunch of Interviews and DVD promo stuff. I was out this afternoon shooting video for The Weather Channel on Canal Street and in the Quarter and this place still looks thrashed. Tomorrow I will be out shooting video in the 9th Ward.